Staff
Our dedicated staff members are here to provide support, compassion, and information to help you through your journey of grief and the celebration of your loved one's life.
Mrs. J.W. Jones Memorial Chapel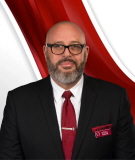 Steven Marcom
Chief Executive
mrsjwjones@gmail.com
Steven Marcom was raised in California and is a California Licensed Funeral Director, Embalmer and Crematory manager.
licensed Funeral Director & Embalmer.